Introduction
Cement in India is currently transported using multimodal logistics through all principal modes, ie, roads, rail and waterways. Being a hygroscopic material, cement is transported to the end consumer in a time bound manner.1 Considering the high volume of cement that is transported each year, it is important to optimise the modal mix to drive energy efficiency, environmental conservation and conservation of resources.2
Shift in modal trends for cement movement
The mode for cement movement has seen a gradual shift over the past decades. Railways, which used to be the prime mover of cement, gradually witnessed a decline with its share falling from 57% in 1989-90 to 21% in 2019- 20.3 The decline in rail movement was compensated by road movement due to factors such as schedule flexibility, ability to provide door to door delivery, affordability of road movement for short lead delivery etc offered by truck operators.4 This increased share of road movement from 43% in 1989-90 to about 77% in 2019-20.
The rail share saw a recovery in 2020-21 when it increased from 21% in 2019-20 to 25% in 2020-21. The overall rail loading for cement and clinker combined also increased from 111 million tonnes in 2019-20 to 121 million tonnes in 2020-21.5 Continuing into 2021-22, cement loading on railways increased by ~35% from 28.18 million tonnes in the first half of 2020-21 to 37.98 million tonnes in first half 2021-22. Combined loading of cement and clinker also increased by over 40% from 46.09 million tonnes in 2020-21 to 64.54 million tonnes during the same period.
Mode wise trend for cement loading in India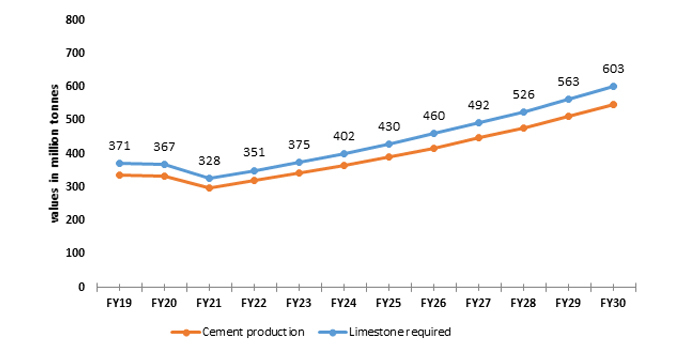 Source: Revenue Freight Traffic Statistics on Org. Basis,
http://www.indianRailways.gov.in/Railwayboard/view_section.jsp?lang=0&id=0,1,304,366,554,818,821,
Railway Board Directorate; Office of Economic Advisor, https://eaindustry.nic.in/, November 12, 2021
Changing trends and areas for intervention
A change in the rail share of cement can be attributed to multiple factors such as increased interface with CMA and the Member Companies, which has contributed to a better understanding on both sides of requirements and constraints leading to operational and policy changes to support industry. This has been driven by progressive measures such as restructuring at the Railway Board, launch of the Freight Business Development Portal, launch of the Dedicated Freight Corridor (DFC), doubling speed of freight trains etc, which have enabled significant transformation and improved cement loading on railways.6 It is important to note that the rail share for cement be increased even further with sustained support from the Railway Board.
Another mode for moving cement, namely coastal and inland Waterways is yet to pick up pace in India. Inland waterways currently have a share of 2% in the total cargo moved in the Country compared to a global share of 8 to 15%. Waterways, including coastal shipping, carry less than 10% of the total cargo moved in India.7 This can be majorly attributed to the challenges around port connectivity and port infrastructure.8
Moving cement on railways and waterways has a number of advantages. A single waterways vessel or railway rake can carry over 2,000 tonnes of cement, which is almost equivalent to 125 trucks of 16 tonnes each. Inland waterways and railways movement is also comparatively economical. Railways and waterways are also more energy efficient and environment friendly emitting INR 0.0366 ptpk and INR 0.03 ptpk of air pollution respectively compared to INR 0.202 ptpk for road movement.9 Given the environmental and efficiency advantages that railways and waterways offer; it would be prudent to drive India's modal mix.
Government initiatives are suggestive of transition to railways and waterways movement. The Indian Railways is considering creation of nearly 500 multimodal cargo terminals in 4-5 years under the PM Gati Shakti scheme.10 The Sagarmala initiative aims to double the share of waterways movement across industries from its current 6% to 12% by 2025.11 At a recent CMA interaction with Vice Chairman, Inland Waterways Authority of India (IWAI), it was highlighted that waterways movement was being seen on the West coast and the waterways catering to Maharashtra, Goa and Gujarat were ready for business. He emphasised the high potential being seen in the Eastern part of India, namely, the 1,600 km NW 1 starting from Prayagraj to Haldia. An optimal modal mix framework is also being laid through the upcoming National Logistics Policy under which the current modal mix of roadways (60%), railways (31%) and waterways (9%) will be optimised to roadways (25-30%), railways (50-55%), and waterways (20-25%), in line with international benchmarks.12
The way forward
As the Country transitions towards optimising its multimodal infrastructure, it is important that a holistic perception is developed taking into consideration the views of all the stakeholders involved. Being one of the eight core industries in India, the Cement Industry can contribute significantly towards such a transition. Creation of optimised multimodal logistics infrastructure across railways, roads, waterways and warehousing will help improve energy efficiency, environmental conservation and also lead to conservation of resources.13