Introduction
The Indian Cement Industry is a strategic partner to the Indian Railways. It is evident that collaborative growth is being increasingly witnessed between the two. Cumulative cement loading grew from 34.82 million tonnes in April-October, 2020-21, to 45.38 million tonnes in April-October, 2021-22, a yearly growth of 30.33%. Similarly, cumulative clinker loading also increased from 22.29 million tonnes in April-October, 2020-21, to 31.09 million tonnes in April-October, 2021-22, a growth of 39.48%.1 During April-October, 2021-22, Cement Industry has been the fourth largest revenue generator for the Indian Railways. This is revenue only from cement and clinker movement, and is exclusive of the revenue generated from the movement of coal, fly ash, and other input materials.2
This increasing collaborative dynamism in operations can be attributed to multiple factors including increased interface with CMA and the Member Companies, which has contributed to a better understanding on both sides of requirements and constraints leading to operational and policy changes to support industry. Railways have taken progressive measures such as restructuring at the Railway Board, doubling speed of freight trains etc, which have enabled significant transformation and improved cement loading on railways. Such a transition to increased rail movement is not only energy efficient but also promotes environmental conservation as Railways is a more environment friendly mode for moving cement.3 It is important to note that the loading can be increased even further with sustained support from the Railway Board.
Trends in cement loading on rail
The rail share of cement, which was declining saw a recovery in 2020-21 when it increased from 21% in 2019-20 to 25% in 2020-21 driven by operational and policy changes to support growth. The overall rail loading for cement and clinker combined increased from 111 million tonnes in 2019-20 to 121 million tonnes in 2020-21. Continuing into 2021-22, cement loading on railways increased by ~35% from 28.18 million tonnes in the first half of 2020-21 to 37.98 million tonnes in first half 2021-22. Combined loading of cement and clinker also increased by over 40% from 46.09 million tonnes in 2020-21 to 64.54 million tonnes during the same period.4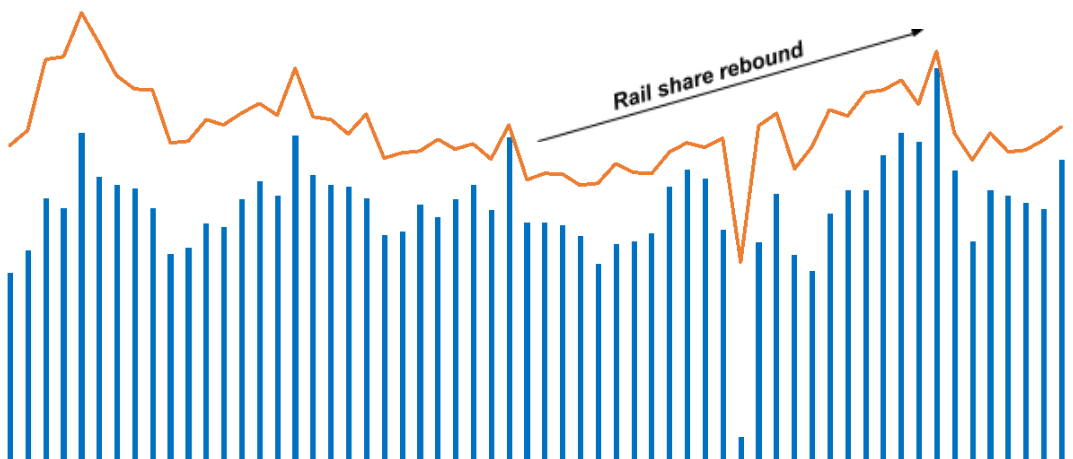 Source: Revenue Freight Traffic Statistics on Org. Basis, https://indianrailways.gov.in/railwayboard/view_section.jsp?lang=0&id=0,1,304,366,554,818, Railway Board Directorate; Office of Economic Advisor, https://eaindustry.nic.in/, accessed December 23, 2021
A win-win for both
This increasing cement loading on rail is a win-win both for the Indian Railways and the Cement Industry. Measures such as the launch of Freight Business Development Portal, setting up of Traffic Transportation and Business Research (TT&BR) Unit etc, taken by the Indian Railways have helped the Cement Industry increasingly find value in moving cement and clinker on rail. This is a welcome transition, which should continue going ahead. Being one of the eight core industries in India, the Cement Industry can contribute significantly towards such a transition.
The Indian Railways is currently working towards establishing around 500 multimodal cargo terminals under the PM Gati Shakti program over a period of next 4 to 5 years.5 The Master Circular on Gati Shakti Multimodal Cargo Terminal (GCT) has also been released by the Railway Board.6 To drive such a transition, it is important that appropriate operational and policy changes be urgently introduced so that the momentum is not lost. This would provide win-win solutions for all the stakeholders involved. Under such a scenario, regular stakeholder consultation become crucial to develop a holistic perception in the matter.
In conclusion
The Cement Industry actively looks forward to continue as a long term growth partner of the Indian Railways. As the Railways continue to move forward with necessary measures including creation of a robust multimodal infrastructure, it is important that a holistic perception is developed taking into consideration the views of all the stakeholders involved. Such a consultative approach will not only promote inclusive growth but also lead to economic development while encouraging the Cement Industry to consider apposite technology and innovative interventions