Introduction
The Indian Cement Industry is the second largest in the world by annual cement production. The Indian Cement Industry has a multiplier effect of 4.16x on economic output and 1.53x on GDP. It creates 20,000 downstream jobs per million tonne of installed capacity.1 Being an eight core industry, the Cement Industry understands its responsibility well and makes adequate contribution towards national development. An area where the industry is making necessary ministration is ensuring health, safety and convenience for truck drivers. Given that the Cement Industry cares about its partners across the value chain and envisions to achieve zero harm, driver health and safety, truck drivers are given priority by the Cement Industry through a number of initiatives.
Initiatives taken by Cement Industry for truck drivers
CMA Members Companies have taken a number of initiatives to contribute towards health, safety and convenience for truck drivers. Initiatives have been taken around providing insurance coverage, comfortable sleeping arrangements, mobile charging points, a sanitisation facility, a canteen facility with 24X7 food etc to the truck drivers. As truckers are a high risk group who spend most of their time on the highways, CMA Member Companies are also engaging in promoting awareness around life threatening diseases such as HIV and educating drivers on how to prevent it.
For instance, Ambuja Cements introduced a comprehensive Group Personal Accident Insurance (GPA) policy for its truck drivers in 2018. The policy provides a coverage of INR 5 lakh to nearly 12,000 drivers (third party employees) in case of accidental death or total/ partial permanent disability.2 Ambuja Cement Foundation (ACF) has partnered with Pernod Ricard India Foundation (PRIF) to promote responsible behaviour change on preventive healthcare and substance abuse, and share awareness on road safety to reduce accidents among truck drivers in Derabassi, Punjab. The project is being held over 3 years and will occur in 3 phases for ~3500 rural truckers and allied population in the Derabassi region.3
JK Lakshmi Cement Limited runs a program called Health (Aarogya) to promote awareness on HIV & Silicosis amongst truck drivers. Under the program which is being run since 2012, 502 awareness programs have been conducted for HIV AIDS and 47 awareness programs have been conducted for sharing awareness on silicosis. These programs have trained 11,874 and 1,019 truckers respectively.4
Ultratech Limited has recognised driver training as one of the critical areas for enhancing driver safety and ensures that each driver is educated through a Safety Induction Program. An animation video on Driver Safety Induction is shown to the drivers. It is generally providing the required infrastructure for driver training such as a Driver Training Room with all required amenities such as desktop, projector, sound system, chairs, etc at the truck parking yards. Truck Yard Management and Maintenance Guidelines have also been laid down mentioning the following as the Minimum Basic Requirements at the Truck Yards.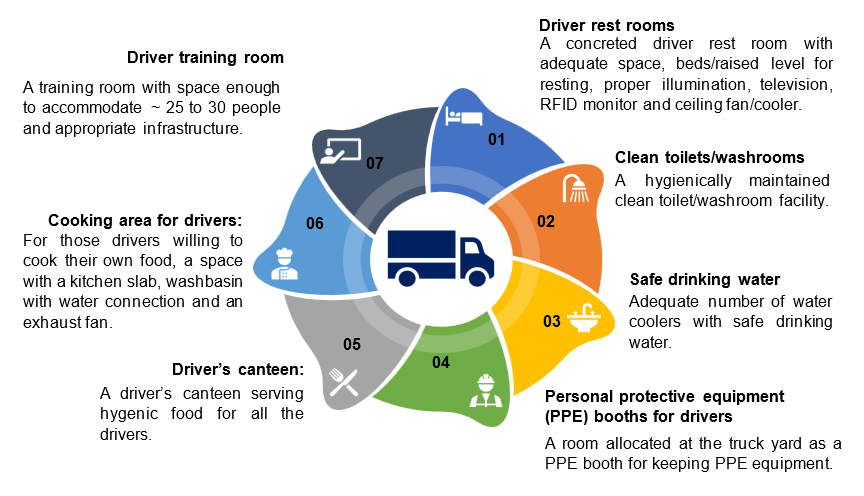 Creating a healthy and safe driver workforce
CMA Member Companies have taken a number of initiatives to promote health, safety and convenience among truck drivers. Government thinking is also suggestive of prioritising this area. A number of measures such as the introduction of Goods and Services Tax (GST) has reduced transit time by 20%. Proposed development of highway village and highway nests on National Highways are also being taken up to enhance conveniences for the truck drivers.5Human resource enhancement and skill development has also been chosen as a priority area under the National Logistics Policy.
Further, a necessary implementation framework could be provided to improve driver skill to reduce safety incidents, infrastructure for truck drivers could also be improved. Road safety signages could be installed on all roads, especially on state highways and hilly terrains. An emergency response mechanism in case of any unforeseen events could be provided across all highways. Parking for vehicles, food court/dhaba, minor repair shops, restrooms and dormitories for drivers could also be provided at major cities/junctions across the Country.
In conclusion
As India transitions towards a USD 5 trillion economy, the Government is making necessary efforts such as preparing the National Logistics Policy which will help improve the logistics cost. Under the larger umbrella of the National Logistics Policy, important areas such as driver health, safety and convenience should be given due priority to promote safety, reduce incidents and make truck driving an attractive career proposition for the workforce. It is, therefore, important that necessary measures are taken at the earliest to drive inclusive growth albeit with safety.