Responsible Mining Initiatives: Star Rating System
December 10, 2021
Star Rating awarded by the Ministry of Mines for implementation of a Sustainable Development Framework
A Star Rating system has been introduced by the Ministry of Mines, Government of India, to assess and verify best performing mines in the country following stringent assessment parameters of Sustainable Development Framework (SDF). The Ministry of Mines aims to encourage mining operations that are financially viable; socially responsible through community engagement and welfare programmes; environmentally, technically and scientifically sound; with a long-term view of development; uses mineral resources responsibly; and, ensures sustainable post closure land uses.
Mining is a highly complex and technical process. It begins with exploration; continues through production; followed by closure and supporting post mining land use. Each stage requires scientific planning and proficient execution of activities from overall sustainability standpoint. Mining serves the community by way of supporting local health, education, generating direct employment and providing raw material to the downstream industrial value chains.
India is among the world's leading producers of limestone, directly catering to the needs of domestic Cement Industry. Over 95% of limestone mineral is extracted through captive mines, mostly operated by the private sector cement companies. 1 It is significant to highlight that the Indian Cement Industry yet again demonstrated its technical prowess and socio-economic responsibility as it leads the charts of best performing mines under the Star Rating System. In the first round of online star rating assessment system, out of 560 applicants with working mines, 32 mines got a 5 Star rating largely represented by the Cement Sector.
By excelling at the Star Rating system assessment process, the Indian Cement Industry has objectified a built-in compliance mechanism in its mining operations setting benchmarks for the other industries. Cement Industry proficiently addresses all three core pillars of sustainable development illustrated in Figure below.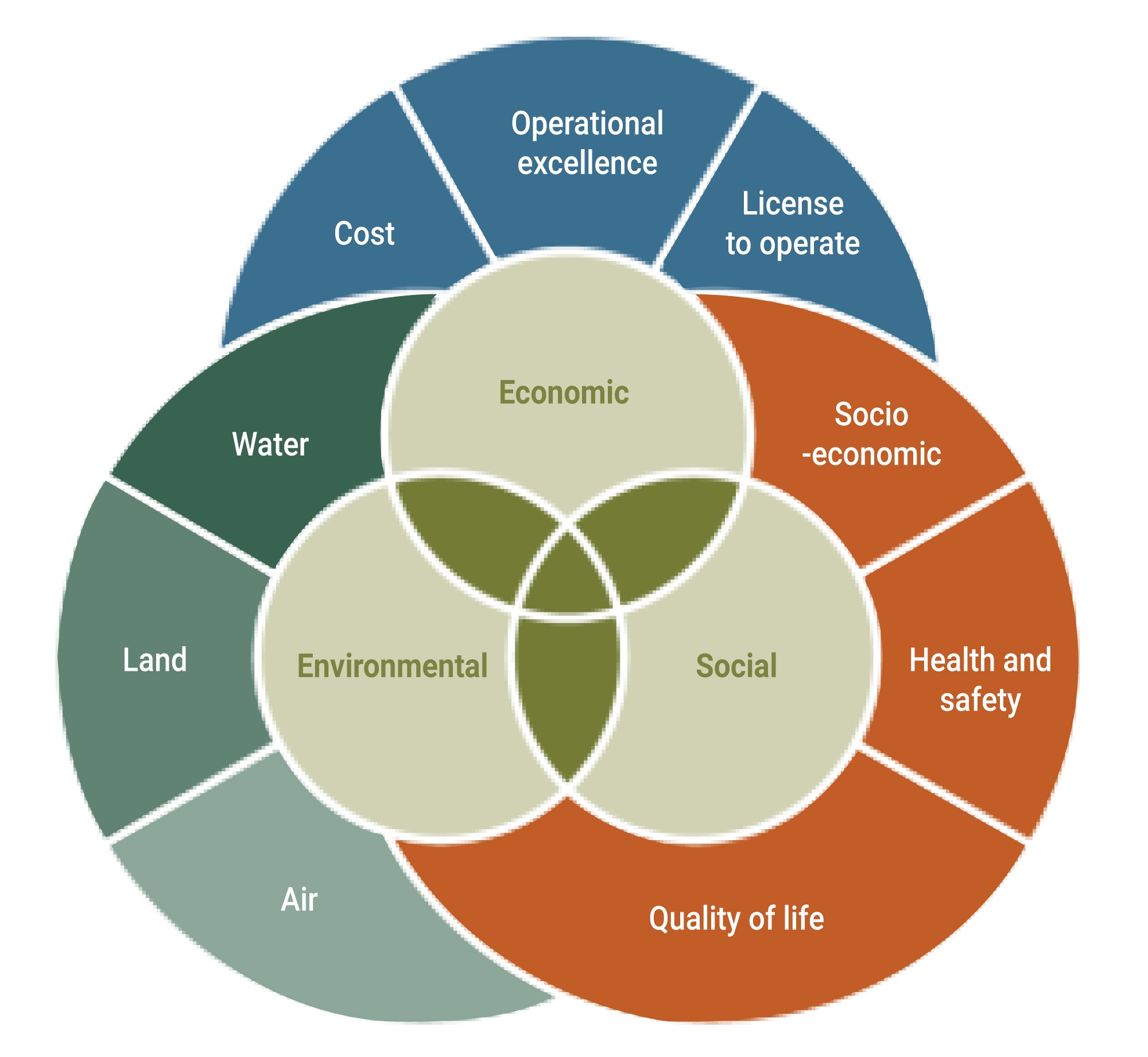 As a direct outcome of its adherence to the exhaustive parameters of Star Rating assessment system, the Indian Cement Industry has also showcased following direct benefits arising from its mining operations:
Optimisation of resources through efficient and responsible mining practices. This can be understood through following aspects

Adherence to international best practices and guidelines such as adoption of United Nation. Framework Classification (UNFC) system for classification of mineral resource into various categories.
Zero waste mining and utilisation of sub-grade minerals through blending.
Use of technology for optimal exploration of mineral wealth in the lease bound area.
Beneficiation of sub-grade minerals and mineral rejects.
Implementation of high degree of mine safety standards with constant monitoring and sensitisation of workers.

Comprehensive mitigation of environmental impacts on land, air, water bodies and nearby surroundings

Continuous monitoring of environmental quality parameters.
Adoption of innovative approaches towards conserving water through construction of rainwater harvesting structures, ground water recharging, check dams, recycling etc.
Energy savings by conducting periodic energy audits and energy-efficiency improvement programmes.
Top soil utilisation and green belt development.
Statutory compliances and voluntary adoption of international standards such as Environment Management System (ISO 14001), Quality Management System (ISO 9001), Occupational Health and Safety Assessment Series (ISO 18001), Global Reporting Initiative (GRI), etc.

Addressing Social Impacts

Rehabilitation and Resettlement for project affected people in a responsible manner.
Engaging local community through various CSR activities.
Socio-economic development and community welfare programmes.
Employment generation and supporting skill development of local people.
Supporting livelihood and improving the overall quality of life of nearby communities.